Band Bio:
With a namesake derived from '80s cult band The Sisters of Mercy, Shakespeare/Livy-penned poetic biography, and 16th c. Borgia legend, Boston, Massachusetts' musicians Lucretia's Daggers blend darkwave, synthpop, and ambient metal with dramatic female vocals and have brought an arty touch to their "socio-political, mixed-genre, dark lyrical electro-rock for the apocalypse" since August 2001.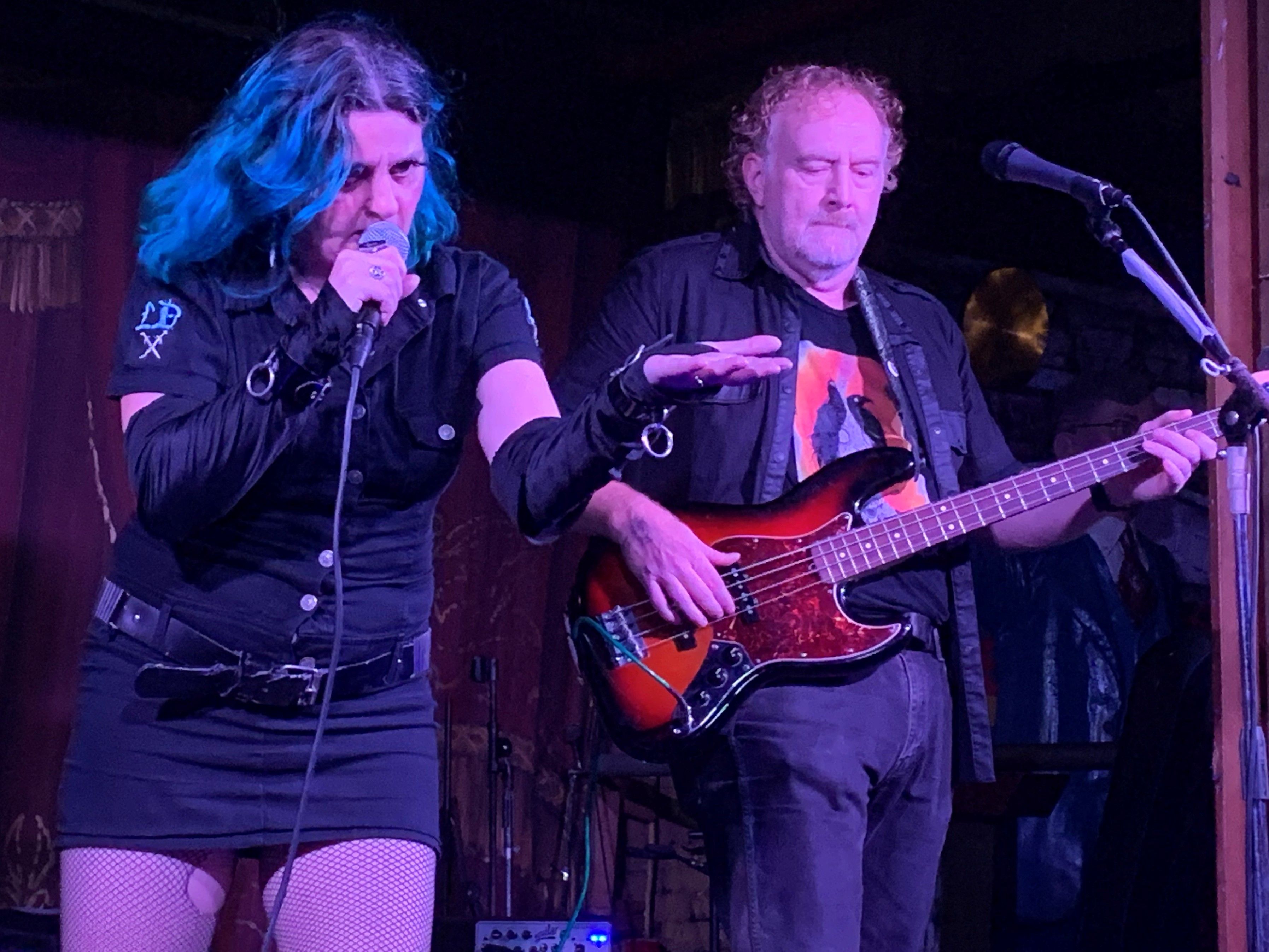 As of January 2022, consummate guitar   master and   extraordinary drum   tracks producer of   Horace Grimsby with   his trusty laptop   LAZARUS succeeded   Maxx in the most   prolific musical lineup   yet.
Combining passionate,   confessional, introspective   lyrics a la Fiona Apple and   The Dresden Dolls; the   quirk and inventiveness of XTC and Faith No More; mixed with the raw angst of Nine Inch Nails and System of a Down, LD gained a cult following for its shows and first full-length album, Sad Flower Songs, released independently in February 2006, their single "Tragedy" released January 2009 on the Sky So Grey dark music compilation by Decorative Records, and its first music video for "The Horrors of Retail" produced by Warren Lynch and Scott Matalon/Metropolitan Pictures at StingRay Body Art & More, Allston, MA, September 2009. My Reflections, the 2011 studio album produced by Otto Kinzel, features download tracks re-recorded from 2006's Sad Flower Songs and various compilations. LD's full-length debut CD, Sad Flower Songs, was released February 2006, with additional tracks on various local, national, and international compilations. The band's second professional video, "Public Transit", recorded by Tom Woundy and produced by Amanda McGrady, was released July 2014 in memoriam to Anderson Lynne Mar. August 2019 saw the release of the band's 5-song EP "Thoughts & Prayers," produced, mixed & mastered by Joel Simches/Sonic ChocoblissTM/Sonic Enhancement Specialists, LTD. Recorded at Watch City Studios, Waltham, MA.


Awards/Recognitions:



LD's song "The Horrors of Retail" was chosen as one of six songs for inclusion in New England Garage Bands' "Play Live! Play Loud - Local Rock God" video game contest, available Spring 2011



LD's song, "Fallen Moon", was chosen #1 for The Best of 2006 on "Closed Caskets for the Living Impaired", broadcasting live on KUCI 88.9FM in Irvine, CA



Instrumentals from two songs - "Dust" and "The Horrors of Retail" - appear in the 2005 release of Boston cult film "Pony Trouble"



LD played their preliminary round in the international Emergenza Festival competition on Friday, March 18, 2005 at Middle East Club (Cambridge) and as semi-finalists at the Paradise Rock Club (Boston) on Sunday, May 22nd, 2005

Fan Comparisons:

The Damned, Dead Can Dance, The Dresden Dolls, Garbage, The Gathering, The Human League, Lords of Acid (Lady Galore), New York Dolls, Nightwish, Nine Inch Nails, Portishead, early The Shroud, Grace Slick, The Velvet Underground, Kurt Weil, X-Ray Spex (Poly Styrene), Steeleye Span

History:

Begun August 2001 with lyricist/melodist/vocalist Lucretia X. Machina and guitarist/collaborator Andrew Berlet, Lucretia's Daggers played to full-capacity house parties of artists, freaks, goths, pagans, and friends for years. Following the short-term addition of bassist Alex Levin and, later, Andrew Berlet's move to Michigan, Lucretia reformed the band with the help of Darrell Brown (guitarist, collaborator, and sequencer arranger) in April 2002, then Stephanie (keyboards), and subsequently Mark Cloherty (bass) 6-8 months thereafter. 

The 4-piece band's nightclub debut and 5-song demo CD release party was held 9/7/03 at O'Brien's Pub in Allston "Rock City" MA. In Summer 2004, Mark Cloherty left and the band was rejoined with bassist/collaborator Rob Mercier who departed 11/04 to concentrate on Thylacine. LD acquired temporary bassist Tony Puleo to play its first Emergenza performance at the Middle East 3/05, and then bassist Geoff Valentine of Specimen 37for its second Emergenza performance at the Paradise Rock Club 5/05. Sue Mikes, formerly of Robotzen, provided back-up vocals. Guitarist Futurist Tarquinius and Lucretia updated LD's sound alone with FT's re-recorded backing MP3s for the next two years. From May-July 2007: iodine (bass), Ms. Spyglass (backup vox) and drum programmer/keyboardist DrDK made appearances. Lineup May-October 2007: Founder and lyricist/vocalist Lucretia X. Machina, lead guitarist Elucid, and DrDK. The band reformed once again with Elucid and Odetta Mo Excrucior joined as bassist in 2008 with preprogrammed computer tracks. Faust began on electric drums 3/08. Supplemental drums intermittently provided by Leon Rich. Elucid departed October 2010; Odetta Mo, February 2011. From December 2010-October 2011, Otto von Kinzel was the band's lead guitarist/synth programmer when he and Faust departed the band. In the Summer of 2012, Lucretia, with the help of bassist Jason Skulls, revivied the band with Franssen Haas and Zenobia Veritas and played a few shows that Fall until Skulls returned to his previous two bands: ambient metal outfit Mortuus Ortus of Nashua/Manchester, NH and socio-political punk band Sans Nomenclature of Boston. As of August 2015, Lucretia's Daggers was evil guitarist Aza'zel, sonic electronic drummer Franssen Haas, mystical keyboardist/backup vocalist Belle LeBrave, bad-ass bassist Donni Darko, and the band's founder and lush lyricist/vocalist Lucretia X. Machina. LD's full-length debut CD, Sad Flower Songs, was released February 2006, with additional tracks on various local, national, and international compilations. The Summer of 2016 found the reformation of the band with Artemis Juno on guitar and laptop tracks production, Donni Darko on bass, and, of course, Lucretia X. Machina on the mic.
The winter of 2019 found the reformation of the band with Maxx Charvelle on guitar, Donni Darko on bass, and, of course, Lucretia X. Machina on the mic. Rounding out the trio was the fourth, most reliable, most electronic partner yet, a laptop named FOUR. With a grant from the Watertown Cultural Council (via the Massachusetts Cultural Council) and merch sales from their Indiegogo campaign, the band produced two videos--"New Army" and "Lonely Island"--with this lineup. As of January 2022, Horace Grimsby replaced Maxx as both guitarist and laptop tracks master with his trusty laptop named Lazarus.

Performances:
In addition to one to three annual house parties in its early years and annual private summer backyard shows, other Massachusetts performances have included:

Abbey Lounge (Somerville)


All Asia Cafe (Cambridge)


The Baseball Tavern (Boston)


Bristol Studios (Boston)


Burning Man Decompression Party (Boston)


Borders Bookstore Café (Cambridge)


Cantab Lounge (Cambridge) 


Church (Boston) 


Dodge Street Bar & Grill (Salem)


Great Scott (Allston) 


Gulu Gulu Cafe (Salem) 


Jacques Underground (Boston)

Johnny D's (Somerville)


ManRay Club's "Miss Goth contest" (Cambridge)


Middle East Club Upstairs (Cambridge)


New England Pagan Pride Day (North Andover) 


O'Brien's Pub (Allston)

Out of the Blue (Cambridge) & Out of the Blue, Too (Allston) Galleries 


P.A.'s Lounge (Somerville)


Paradise Rock Club (Boston)


Post Presidential Inaugural Commiseration "Blue" Party (Boston)


Radio Bar (Somerville)

Ralph's Rock Diner (Worcester)


Rosebud (Somerville)

Sally O'Brien's (Somerville)


Skybar (Somerville)

The Jungle (Somerville)


Tremont Tea Room (Boston)


Uncle Eddie's Tavern (Salisbury)  Zeitgeist Gallery (Cambridge)  

Out-of-state gigs: 


Fete Music Lounge (Providence, RI)

87th Annual Bike Week (Laconia, NH)


Milly's Tavern (Manchester, NH) 


Club Hell (Providence, RI)